Pin-Bracing Equipment
Pin Brazing
Pin brazing is used to ensure a safe electrical connection to different types of metal. The pin brazing process is ideally suited for many applications including continuity bonding between pipes, connecting measuring and test cables, and the installation of sacrificial anodes and test posts.
Fast and Easy Connection, without changing the structure of the pipe!
Pin brazing gives a safe and durable connection with the automated brazing taking only 1.5-2 seconds.
Pin brazing is easy to use on site as well as in the workshop.
The BAC pin brazing system has the capability to use a welding generator as a power source in situations where a large quantity of connections need to be made in one place such as pipe coating yards, lay barges etc.
Benefits
Speed of Connection – Quick and easy.
Low Temperature – Both the low melting point of the solder (up to 650°) and short brazing time keep thermal effects on the metal to a minimum
All Weather – Wind, rain and cold do not prevent the operator from working safely and effectively. Damp conditions pose no problem.
Easy to Use – Operators can be trained to effectively maintain and use equipment in less than one hour.
Versatile – The portable nature of the equipment means that connections can be made in almost any location above or below ground, even overhead!
Brazing in five easy steps…
Clean the pipe to a bright finish
Load the gun with a pin and ferrule
Adjust as necessary
Braze
Test the connection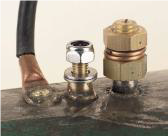 Contact us for advice on your specific use.